Gamma Knife makes life sweet again for Ronald Johnson
Trigeminal Neuralgia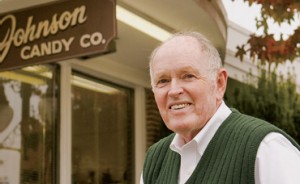 Today you'll find Ronald Johnson, 76-year-old owner of Johnson Candy Co., selling handmade confections in his Tacoma store. But a few years ago, a nagging health problem began interfering with his normal routine.
Ronald was diagnosed with trigeminal neuralgia, a nerve disorder that causes episodes of intense pain in the facial area. "It could be triggered by the slightest touch—by eating, brushing my teeth or shaving," he says. "It wasn't constant, but when it came on, it felt like an electric shock or a bolt of lightning. It would hit me and then be gone, but I'd always worry about when it would return." Ronald and his doctor managed the pain with medication for five years, but eventually the drug lost its effectiveness, causing other problems. They tried another medication with some success, but last spring, things began to worsen. "The pain was so bad, I could barely eat. I couldn't stand talking on the phone. I thought, 'This has got to stop.' When my doctor told me about Gamma Knife, I had to try it."
Strictly speaking, Gamma Knife isn't a knife at all. Used to treat abnormalities of the brain's artery and vein systems, brain tumors and functional disorders like Parkinson's disease, the procedure doesn't require head incisions. Instead, the physician precisely focuses 201 intersecting beams of high-intensity radiation directly on the problem area, sparing surrounding normal brain tissue.
As an alternative to open surgery, Gamma Knife offers patients a simple, noninvasive procedure that takes place in an outpatient setting with minimal discomfort. In general, the risk of complications is low. Ronald's procedure was done at St. Joseph Medical Center, the only Gamma Knife facility located between Seattle and Portland.
Gamma Knife is a safe, effective method for destroying brain tumors and treating functional disorders including tremors and trigeminal neuralgia, says Kenneth Bergman, MD, a radiation oncologist who performs Gamma Knife procedures at St. Joseph. "In many cases, patients can choose between Gamma Knife or conventional surgery. When surgery is too risky, Gamma Knife can be an excellent alternative," Dr. Bergman says. "And since it's an outpatient procedure, patients can go home the same day rather than spend days or weeks recovering in the hospital."
"I think the worst part was the frame they attach to your head before you go into the Gamma room," Ronald says. "I couldn't feel the treatment itself, and there was no noise. It was like getting an X-ray." Ronald went home that day and was back to selling candy the day after.
"They say that after you break a bone, a month later you've forgotten how bad the pain was," Ronald says. "I left that Gamma room without pain, and now I've forgotten what I went through before. It's absolutely wonderful. And I want others to know that there is relief."
Ask your doctor about Gamma Knife treatment or call 866.254.3353 to schedule an appointment and learn if Gamma Knife treatment may be right for you.
St. Joseph Medical Pavilion