Symptom Control Gave Barbara Her Life Back

Essential Tremor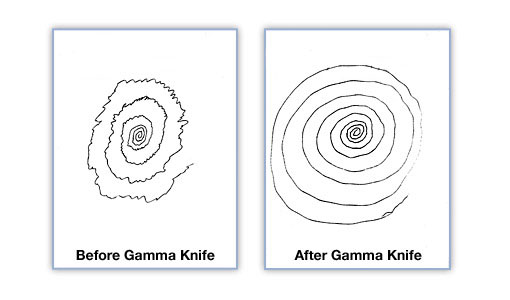 A youthful senior with dark, quiet eyes, Barbara easily sips lemonade as she shares her story. Diagnosed with Essential Tremor "oh, 12 to 15 years ago," the shaking had made her retreat from her usually active life. "Socially it was getting to be a problem," she said. "It's hard to go to lunch when you can't pick up a spoon."
Barbara was relieved to receive a diagnosis. "At the time, I was glad to know it was Essential Tremor," she said. "I thought, 'I can live with that.'"
Over time, the shaking worsened, until Barbara couldn't write and it was difficult to use a computer keyboard. Barbara is a member of the Crow Indian Nation and grew up on reservation land in Eastern Montana. She was living in Sequim, just before moving to Puyallup, when she saw an ad in the paper for South Sound Gamma Knife for help with Essential Tremor. "By the time I had the gamma knife procedure, I couldn't even sign in when I went to lunch at the Puyallup tribe."
Barbara's gamma knife procedure was performed in October of 2009 at St. Joseph Medical Center in Tacoma. "I was apprehensive beforehand," she admitted. "But it really was painless. In fact, I almost went to sleep. I dozed, but I was afraid to fall asleep – I know I snore!"
Just five weeks later, she showed remarkable improvement. "It's great to be able to sign my name again!" Today, she's enjoying maintaining her Indian heritage and social connections. A former 20-year master gardener, Barbara is busy planning the garden for her new home.
"Barbara was an ideal candidate for Gamma Knife radiosurgery," said Randy Sorum, M.D., radiation oncologist who performed Barbara's procedure. "She had an excellent response in a short period of time, with no side effects."
Ask your doctor about Gamma Knife treatment or call 866.254.3353 to schedule an appointment and learn if Gamma Knife treatment may be right for you.
St. Joseph Medical Pavilion